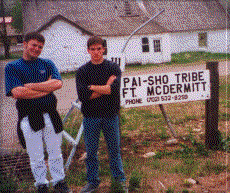 FORT McDERMITT, 5 miles east of US 95 at a point 40 miles north of its junction with SR 140 (69 miles North of Winnemucca).
This place is not to be confused with the community of McDermitt on US 95, 5 miles to the west.

Lieutenant Colonel Charles F. McDermitt (also spelled McDermitt), commander of the Nevada military district, ordered establishment of a camp at Quinn River Station on the north bank of the East Fork of the Quinn River during the summer of 1865 to protect travelers passing b etween Boise, Star City and Virginia City. That same summer Colonel McDermitt was ambushed and killed by Indians while riding in Quinn River Valley, and by 1867 the camp renamed in his honor had stone and adobe buildings which housed the usual army facilities. About a decade later frame buildings were added, and in 1879 Camp McDermitt became Fort McDermitt, but the need for military presence in the area was diminishing, and a decade later the fort, Nevada's last cavalry post was abandoned. The building became part of the Fort McDermitt Indian Reservation, and some of them still stand.

Fort McDermitt holds a rodeo on Father's Day. Often with booths and sometimes have drums and dancing in costumes.
BUCKSKIN, by unimproved road, 12 miles east of US 95 at a point 29 miles North of its junction with SR 140. Two Winnemucca prospectors located the Buckskin mine on the northeast slope of the Buckskin Mountains in 1906, and when mines boomed at National, four miles to the northwest, several more people prospected this vicinity. The Buckskin National Gold Mining Co. built a 100-ton flotation mill, but that process proved unsuitable for the ores. The company and various leasers operated the mine intermittently for two decades until the Nevada Lucky Tiger Co. took over the property about 1930 and erected another mill. Even that effort was short-lived, and operations were halted when the mill burned during the Depression.